Etichettatrice EDIT
Gallery
Info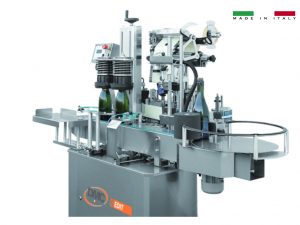 SEMI-AUTOMATIC SELF-ADHESIVE LABELER WITH BASEMENT equipped with reciprocating conveyor belt and final motorized collecting platform. Labeling is done using a container rotating plate and pneumatic blocking of the container neck: this system allows to work with multiple formats such as cylindrical, conical, square, shaped and special containers; the size change is quick, easy and above all very cheap, because just one single component needs to be replaced. The machine is provided with three-phase motors to ensure a higher quality and more constant labeling. This model is equipped with an electronic control panel and can store in memory up to 25 different programs for as many different containers.
Possibility of installing up to 3 labeling stations to apply front label, back label and neck label or collar band.
Possibility of installing the smoothing unit for sparkling wine caps or the thermic head for the heat-shrinking foils.
Possibility of electronic orienting of the container on the rotating plate by means of an optical sensor that detects the spot on the cap or a mark on the glass.
Possibility to electronically detect the bottom notch.
Possibility of applying wraparound labels.
The machine can install the printer for marking the expiration date or the batch number.
Technical data
MAIN TECHNICAL SPECIFICATIONS
Dimensions min/max: for cylindrical from 55 mm up to 115 mm
Maximum hourly production: 550 bph
Labeling tolerance: ± 2,5 mm
No. stations: up to 3
Foil dispenser: no
Smoothing unit: optional
Motorization: three-phase motors
Pneumatic supply: 4-6 bar, consumption 50 l/min
Power supply: 380 V 50/60Hz + Null
Pdf
Available documents for this machine:
EDIT catalogue in english: download
Video