Labeler ET12/01
Gallery
Info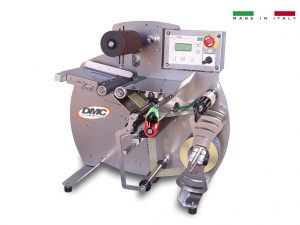 SEMI-AUTOMATIC BENCH LABELER WITH ONE SINGLE LABELING STATION suitable for self-adhesive labels to be applied on cylindrical and shaped containers (with optional maximum tapering 2,5° total);  this machine includes the application of a back label as standard and is also recommended for containers with low physical resistance to pressure, such as those in PET. This machine includes as standard the kit to automate the  cylindrical containers' ejection on the final collecting plate, thus becoming the smallest automatic bench labeler on the market. The machine is provided with three-phase motors to ensure a higher quality and more constant labeling. This model is equipped with an electronic control panel and can store in memory up to 49 different programs for as many different containers.
Possibility of labeling square or shaped formats.
Possibility of labeling also small cylindrical formats, with a minimum diameter of 40 mm.
Possibility of labeling hexagonal/octagonal jars with orientation.
Possibility of applying wraparound labels.
Possibility of detecting the label on already labeled bottles or the bottom/side notch.
The machine can install the printer for marking the expiration date or the batch number.
Technical data
MAIN TECHNICAL SPECIFICATIONS
Dimensions min/max: for cylindrical containers from 55 mm up to 120 mm
Max. hourly output: 700 bph
Labeling tolerance: max ± 2,5 mm
No. labeling stations: 1
Container ejection: automatic (only for cylindrical)
Motorization: three-phase motors
Pneumatic supply: not requested
Power supply: 380 V 50/60 Hz
Video