Can rinser CANJET
Description
CAN RINSER 
CANJET
Automatic can rinser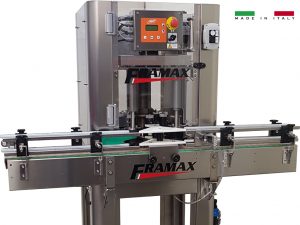 The CANJET model is an independent equipment to be installed in line (available in both right and left versions) for rinsing and marking on the bottom of the cans.
The machine consists of a central carousel that captures the can, overturns it, allowing it to be washed and brings it back to the correct position, thus allowing it to re-enter the conveyor belt. The machine is equipped with a digital control panel for managing the main functions and adjustments. The nominal speed is 4000 bph. The machine is designed for the installation of a marking unit for printing on the bottom of the can: the marking takes place during the translation of the can into the carousel.
TECHNICAL CHARACTERISTICS
Power supply: three-phase 380 V + N
Absorption: 0,5 kW
Hourly output: 4000 bph
Pneumatic supply: 3 bar, consumption 10 l/min
Water supply: minimum 2 bar, consumption 12 l/h
Discover the others models in the CANLINE!
Gallery & Video