Bench labeler EKKO
Description
BENCH LABELER 
EKKO
Manual bench labeler with double labeling stations for cylindrical formats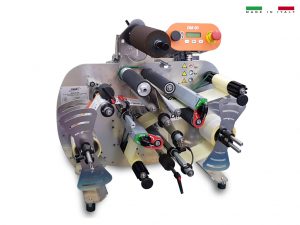 The model EKKO is a manual bench-top labeler equipped with double labeling station suitable to apply body label and back label on cylindrical containers, such as bottles, jars, and cans,
The machine is designed to label also PET containers or materials in general that are not very resistant. The bottle is blocked by means of a sponge roller, which also activates the labeling cycle. Machine management software accessible via display with the possibility to store up to 19 different labeling programs.
By installing additional groups the machine can:
Label slitghly conical containers
Label hexagonal/octagonal containers with orienting.
Detect label on already labeled containers.
Apply wrap-around labels.
Install the thermic marking unit to print the expiration date or the batch number.
MAIN TECHNICAL SPECIFICATIONS
Dimensions min/max: for cylindrical from 55 mm up to 120 mm
Hourly output: 500 bph
Labeling tolerance: max ± 3 mm
No. Labeling stations: 2
Motorization: single-phase motors
Pneumatic supply: not requestes
Power supply: 240 V 50/60 Hz
This labeling machine can be used for the packaging of multiple varieties of food such as wine, beer, oil, vinegar, honey, preserves, compotes, sauces, milk, fruit juices as well as for products from the cosmetic, pharmaceutical, chemical, industrial sectors in general.
Discover all the models in the bench manual labeler category and read our 7 good reasons to choose a labeler by DMC!
Video & Gallery